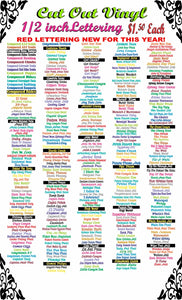 All of our stickers are made locally in beautiful Moab, Utah.
They come in 18 different vinyl colors.
Want something bigger? Check out our 1" Trail stickers here!
Want something more decorative? Check out our full color Printed Trail Stickers based off our wonderful locally drawn t-shirt designs here!
Some colors may look different due to screen resolution settings.
All Stickers are only made in their existing font.
THIS IS INDIVIDUAL STICKERS ONLY. NOT SHEETS.